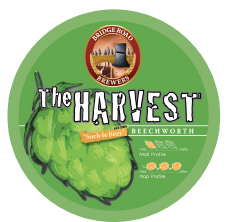 Beechworth's Bridge Road Brewers have released their 2010 Hop Harvest.
The brewery reports that their local hop garden, Rostrevor, had a great year with plenty of rain and a decent harvest. Bridge Road was able to harvest 4 or 5 hop plants from Rostrevor, a miniscule quantity in comparison to the hundreds of acres grown in the Ovens Valley but enough for 1800l of The Harvest this year, the same volume as their '09 – which was quickly consumed.
As the name suggests, The Harvest is made using green 'wet' hops that were picked on brew day, differing from typical hop additions in most beer which use dried hops. Hops have a very short shelf life when fresh and therefore 99.9% of all hops are dried. Bridge Road report the result is a refreshingly hopped beer, with great aroma, a touch of bitterness and a 'green' hop character on the finish. The hop variety itself has never been used in a commercial beer by anyone but Bridge Road, it is a development stage in Rostrevor's research garden.
The beer is available at a limited number of outlets, but can be purchased directly from the brewery via its website.