This week we chat with Jade Flavell, Publican at Adelaide's Wheatsheaf Hotel, one of Australia's great good beer pubs. Jade is also the head brewer at The Wheaty Brewing Corp, which this year was named Hopco Champion Small Brewery at the Craft Beer Awards.
Jade is a passionate publican and brewer and discusses her approach to brewing, as well as independence, selling out and her thoughts on calling beer booze.
Keep up with the best conversations in Australian beer. Subscribe to Radio Brews News on iTunes or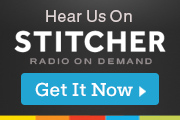 or your favourite podcasting app.