This week on Radio Brews News we are joined by guest host Ian Watson from Brisbane's Slipstream Brewery to discuss the beer news of the week.
We discuss how beer travels for beer awards, Tuatatara claiming to have 'spawned' the New Zealand Pilsner, the most environmentally friendly way to drink beer, $120 keg pricing and much more.
Thanks to Slipstream Brewing for hosting us.
Keep up with the best conversations in Australian beer. Subscribe to Radio Brews News on iTunes or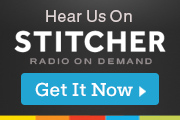 or your favourite podcasting app.