This week on Beer is a Conversation we meet brewer Matt Jancauskas from Brouhaha Brewery in Maleny Queensland.
Matt is a brewer who, on his own admission has had a series of very lucky breaks that took him from working in the electrical industry in Australia to travelling to London and snagging a job at Beavertown Brewery with Logan Plant where in short time he moved from packaging supervisor to became production manager. Matt then returned to Australia to partner to open a brewery which has quickly developed a serious reputation for making great beer and being a top brewpub, such that this year he was named Brewer of the Year at Queensland's inaugural Beeries awards.
Matt is an exciting young brewer making some cracking beer and has a great story to tell.
Enjoy the conversation.
You can send feedback and suggestions here.
You can donate to the podcast here.
Keep up with the best conversations in Australian beer. Subscribe to Radio Brews News on iTunes or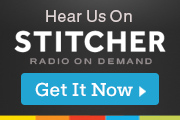 or your favourite podcasting app.