This week on Beer is a Conversation, James Atkinson catches up with Will Tatchell, founder of Van Dieman Brewing in Northern Tasmania.
F
ounder and Head Brewer, Will got into brewing as a distraction during University years, whilst studying Agricultural Science, and came to see the brewing industry as an extension of the primary industry he'd grown up in. Upon completing university, he sought further experience in the brewing sector and travelled to the United Kingdom to immerse himself within the history rich brewing sector. Returning to his home he started planning for his brewery in 2007 and launched in 2009.
Will's experience and passions have recently merged in Van Dieman's Estate Ale beers, brewed with malt, water, hops and yeast grown on the family farm in Tasmania, which is unique not only in Australia but globally.
Enjoy the conversation.
You can send feedback and suggestions here. In return, we'll send you a Brews News bottle opener.
You can donate to the podcast here.
Keep up with the best conversations in Australian beer. Subscribe to Radio Brews News on iTunes or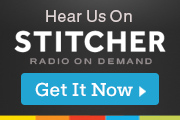 or your favourite podcasting app.