On Radio Brews News, the Brews News editorial team discuss the news of the week.
In a beer week of beer news, we discuss the breaking news that Feral has been sold to CCA.
We look at New Zealand brewer Renaissance's entry into Voluntary Administration.
And also the Brewers Guild of New Zealand awards
Listener José Perez sends through some information about the New Caledonian brewery, Les 3 Brasseurs, Pete spoke about last week.
Keep up with the best conversations in Australian beer. Subscribe to Radio Brews News on iTunes or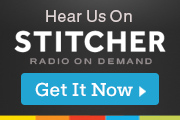 or your favourite podcasting app.